Obi-Wan Finale - The Loop
Play Sound

For the Season 2 Investigation agent with a similar name, see Agent Omir.
Agent Omar is one of the main protagonists of Odd Squad Season 3, and an agent at Odd Squad.
Profile
Omar was formerly an agent at the Arctic Odd Squad precinct along with Opal, until he left with her to find the 44-leaf clover. Upon finding the artifact, the Odd Squad Mobile Unit was formed with him as one of its members, along with Opal, Oswald and Orla.
Personality
Omar is cool, upbeat and a calming guide in stressful situations. He tends to see the bright side of things and is an optimistic person. He enjoys collecting souvenirs from each place he and his partners travel to. Oswald describes him as being "chipper."
Relationships
TBA
TBA
TBA
Mr. O
TBA
Appearances
Trivia
He is able to speak Spanish and roller skate, as of "The Void".
He likes pineapple juice.
He gets upset when he can't find a souvenir.
He knows a lot about shadows.
His answer to the phone is "Omar's House of Friendship.".
Main Gallery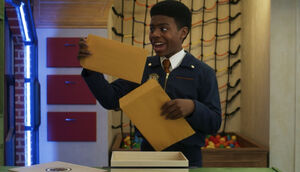 Appearances Gallery
For Omar's appearances gallery, go here.