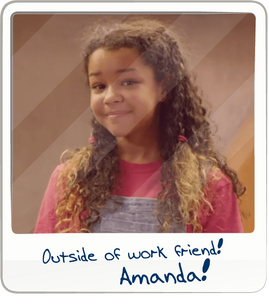 Amanda is Agent Olympia's best friend outside of work. She was introduced in Olympia's video series OddTube, through mentions and cameos before finally appearing in the series in the episode "The Ball Pit". It is unknown whether she will appear in the show or not.
Personality
Amanda is very supportive of Olympia, and while she doesn't work at Odd Squad, she is a fan of the organization.
Appearance
She has long cup length two-toned brunette/blond ombré kinked hair down with brown eyes and light brown skin. She wears a long-sleeved hot pink sweater and a distorted light blue jumpsuit, though her sweater kindly matches her hair ties.