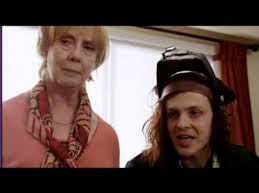 Bradley Kansas is the creator of the board game Swamps 'N' Gators. He also built a special machine that transports players into the game.
Mrs. Kansas is his mother. She cooks whenever she is stressed, and one time when Bradley zapped their dog into the board game, they had thanksgiving dinner for a week.
Appearances
Season 1
Trivia
Bradley's brother (not shown) is named Milton, a pun on the Milton Bradley company.