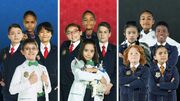 Odd Squad (known as Odd Squad: Mobile Unit in the 3rd season) is a Canadian/American children's live action television series that premiered on TVOKids in Canada and PBS Kids in the United States on November 26, 2014, both on the same day. The series is co-produced by The Fred Rogers Company and Sinking Ship Entertainment in association with TVOKids and Ici Radio-Canada Télé. The series is created by Tim McKeon and Adam Peltzman.
Characters
Main Characters
Season 1:
Agent Olive (Dalila Bela) - A young veteran agent of Odd Squad, Olive is adapting to working with and training her new partner, rookie agent Otto. Olive is usually calm, brisk, and serious, unless the subject turns to her favorite basketball team, the Burly Bears. She has a morbid fear of pies. In the season 1 finale, Olive departs the series along with her partner, Otto, to run a different Odd Squad precinct as Ms. O.
Agent Otto (Filip Geljo) - Olive's partner, and in the opening episode the newest Odd Squad agent. He turned ten in the first episode. The fun-loving Otto acts as a comic foil to Olive's straight-man demeanor, frequently annoying her. Although a rookie, Otto frequently uncovers the facts needed to solve the case at hand, even doing so in Olive's absence, proving his worth as an agent. In the season 1 finale, Otto departs the series to run another Odd Squad office as Mr. O with his partner, Olive.
Ms. O / Agent Oprah (Millie Davis) - Head of Odd Squad, the stern Ms. O leads the organization with an iron fist. Whenever something goes wrong, she has the tendency to yell and is frequently seen sipping a juice box. Despite appearing younger than most of the agents, Ms. O's has worked for Odd Squad since the 1870s, and her actual age remains a mystery. Before she was Ms. O, she worked as an Odd Squad field agent, and became Ms. O by passing a test set up by the previous Ms. O. Her first name is Oprah.
Agent Oscar (Sean Michael Kyer) - Odd Squad's resident scientist and gadgeteer, Oscar is a quirky genius who spends most of his time at Odd Squad Headquarters tinkering with gadgets in his lab. Incredibly knowledgeable, Olive and Otto go to him for technical solutions to their problems. Oscar has a goofy side, delivering his zany scientific rants with a generous dose of hand gestures and vocal sound effects. Oscar departed from the series in the episode "Oscar Strikes Back", where he became the president of the Odd Squad lab sector after the former president was removed from Odd Squad for misconduct.
Math Room (voiced by T.J. McGibbon, season 1) - The virtual space construct Odd Squad agents can retreat to by twisting their badges when they need to visualize mathematical problems. They start to spin and sometimes get to the math room dizzy. The Math Room is inhabited by sentient origami papers with a unified personality. The origami can unfold to visualize numbers, charts, and instant replays as instructed by agents. The Math Room also goes by Carol, and is addressed as such by Ms. O. and O'Donahue.
Season 2:
Agent Otis (Isaac Kragten) - A new agent, introduced at the start of season 2, who joins to fill the opening left by the departure of Olive and Otto in the season 1 finale. He is generally very serious, and does not like to talk. There is no record of him attending the Academy, but he is the seasoned member of the new team.
Agent Olympia (Anna Cathcart) - A new agent, introduced at the start of season 2, who joins to fill the opening left by the departure of Olive and Otto in the season 1 finale. She was given early graduation from the Academy because Ms. O wanted her in the equivalent of Otto's position.
Agent Oona (Olivia Presti): Odd Squad's resident scientist and gadgeteer. Oona took Oscar's role as the lab scientist in Odd Squad headquarters after the events of "Oscar Strikes Back".
Supporting Characters
The seal of the Odd Squad Headquarters makes use of the Droste effect. It is a Jackalope surrounded by bananas carrying a shield with the seal on it.
Episodes
Season 1 (in order of U.S. release date)
Season 2

(in order of U.S. release date)
Season 3 (in order of U.S. release date)
Film
Television Series (in order of release date)
Funding
The Heising Simons Foundation. Unlocking Knowledge, Opportunity, and Possibilities. (Early Season 2 episodes)
A Cooperative Agreement from the U.S. Department of Education (Season 1)
The Corporation for Public Broadcasting's Ready to Learn Grant (Season 1 and early Season 2 episodes)
Viewers Like You/Thank You
References
http://tvo.org/program/207762/odd-squad/
http://www.pbs.org/parents/oddsquad/episodes/
https://www.sinkingship.ca/index.php?id=25
In other countries
Kode Tropp O (Norway)
Ett fall för KLURO (Sweden)
Особо чёткий отдел (Russia)
External links