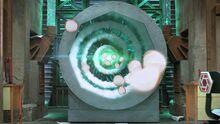 The Pienado is a dangerous tornado filled with pies. It is stored in an octagon container inside of Odd Squad.
Appearances
Season 1
Trivia
The only way to open the container is with Oscar's nose, or at least with something shaped like his nose.
Olive stopped the Pienado by making the point of each triangle in the middle with Oscar's gadget, the Triangle-inator.
The code for when a pienado is released is the actual numbers of pi: 3.14159265359...
Gallery