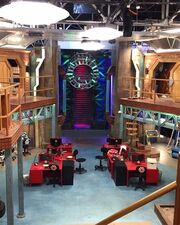 Precinct 13579 is the Odd Squad headquarters located in Toronto, Ontario where Season 1 and 2 of Odd Squad take place. The official name was confirmed by Instructor O in "First Day".
The precinct used to be contacted at 1 (877) 763-2435, but the number is now out of service. 
History
Season 1
TBA
Season 2
In the Season 1 finale "O is Not For Over", after the squad takes down Odd Todd, they discover that Otto opened every door in the hallways of the precinct which let out fierce oddness around headquarters. The agents get everything back to normal, but their was destruction to the headquaters during the showdown.
In the next episode "First Day", Ms. O decides to redesign the HQ along with adding new rooms such as The Creature Room and Coach O's Office.
The Headquarters was formerly run by Oprah. As of the Season 2 finale "Odds and Ends", it is run by Agent Orson.
Employees
Some of the people who work at Odd Squad Precinct 13579 are:
Building
Odd Squad consists of a secret underground headquarters filled with many rooms, offices, and warehouses. They get out into the outside world by their tube system.
Areas:
The Breakroom
The Pool Room
Ms. O's Office
Medical Bay
The North Control Room
The Ballroom
The Awards Room
The Tube Lobby
The Princess Room
The Volcano Room
The Donut Room
The Potato Door
The Cake Room
The Cookie Room
Obfusco's Office
The Clock Room (Presumably)
The Storage Room
The Plush Animals Room
The Toy Dinosaurs Room
The Garden Room
The Sherlock Room
The Janitor Room
The Warehouse
The Dinosaur Room
The Blob Containment Facility
The Pots and Pans Room
The Odd Squad Fountain
Agent Lockers
Math Room (Carol, Season 1 Only).
Rock Wall and Slide
Ground Level Agent Offices
The Banana Room
The Bathroom (key required)
The Lunch room
The Soundcheck Room
The Kitchen
The Training Room
The Candy Room
The Cloud Room
Basketball Room
Odd Squad Pool
Odd Squad Gym
The Calendar Room (Pencil Room)
The Gold Room (Presumably)
The Games Room
The Train Room (Presumably)
The Task Force Room
The Green House Room
Ogg's Room
Coach O's office
Painting Room
Arts and Crafts room
Jazz Room
Chalkboard Room
Owen's Hallway
The Video Game Room
The Green House (house painted green)
The Green House (plants)
Codes
Several codes exist in case of certain events. Each code is a color. The known list is as follows:
Code Ruby: Emergency on hand.
Code Purple: The O Games are starting.
Code Topaz: Evacuate Headquarters.
Code Crimson: Unauthorized Person in Headquarters.