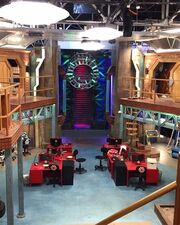 Precinct 13579 is the Odd Squad headquarters located in Toronto, Ontario where Season 1 and 2 of Odd Squad take place. The official name was confirmed by Instructor O in "First Day".
The precinct used to be contacted at 1 (877) 763-2435, but the number is now out of service. 
History
Season 1
TBA
Season 2
In the Season 1 finale "O is Not For Over", after the squad takes down Odd Todd, they discover that Otto opened every door in the hallways of the precinct which let out fierce oddness around headquarters. The agents get everything back to normal, but their was destruction to the headquaters during the showdown.
In the next episode "First Day", Ms. O decides to redesign the HQ along with adding new rooms such as The Creature Room and Coach O's Office.
The Headquarters was formerly run by Oprah. As of the Season 2 finale "Odds and Ends", it is run by Agent Orson.
Employees
Some of the people who work at Odd Squad Precinct 13579 are:
Building
Odd Squad consists of a secret underground headquarters filled with many rooms, offices, and warehouses. They get out into the outside world by their tube system.
Areas:
Codes
Several codes exist in case of certain events. Each code is a color. The known list is as follows:
Code Ruby: Emergency on hand.
Code Purple: The O Games are starting.
Code Topaz: Evacuate Headquarters.
Code Crimson: Unauthorized Person in Headquarters.
Community content is available under
CC-BY-SA
unless otherwise noted.