Jurassic World: Dominion Dominates Fandom Wikis - The Loop
Play Sound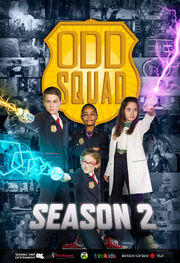 Season 2 of Odd Squad started airing in 2016 with two new main characters, Agent Olympia and Agent Otis, replacing Olive and Otto in Ms. O's Squad, as well as new scientist Agent Oona replacing Agent Oscar six episodes in.
It began airing on June 20, 2016, with a special entitled "Odd Squad: Agents of Change" which featured O is Not For Over and First Day back to back.
The website was also updated for the second season with new games, wall of agents, and character videos.
Changes:
In the second season, Olive and Otto leave to run their own squad, and Ms. O hires two new agents in their place, an academy grad Olympia, and mysterious agent Otis.
After Odd Squad defeats Odd Todd in O is Not for Over, headquarters gets a new look featuring an expanded lab, new desks, and the all-new creature room, run by Agent Ocean.
Other new rooms include the Task Force room, Coach O's Office, and Ogg's room (introduced in Olympia's Day).
Todd becomes a gardener. Oscar hires a new lab assistant, Oona who, after Oscar becomes president of the academy (after the current president tried to take over the world in Oscar Strikes Back), takes over as lab director.
Oscar's voice is also deeper from the first episode of season 2 until the final episode that he's in.
Agents use new watches to visualize math problems instead of the Math Room.
Oona hosts all Training Videos.
Training Videos aren't featured in the blue background anymore while rather being filmed in other locations such as The Lab.
Training Videos do not feature Oakley or Ophelia anymore. Although Ophelia appeared once in 514: A Guide To Your Tie.
There are no more Odd Reports.
In Odd Squad: The Movie, Oscar, Olive and Otto return as guests. While not being officially confirmed, it is likely that Octavia and Oren have also left the series, though Olaf has returned in one episode since then.
Episodes:
Specials:
Odd Squad: World Turned Odd (Aired January 15, 2018)