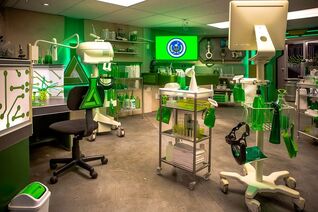 The Lab is where Odd Squad Scientists create, repair and distribute new gadgets to Odd Squad agents. Agent Oona is the current Lab Director at Precinct 13579, filling in for Oscar, the previous Lab Director who left to become President of the Scientists in "Oscar Strikes Back".
History
Oscar was the very first Scientist at Odd Squad, as Ms. O created the Scientist branch for him in the episode "Oscar of All Trades". According to the Odd Squad Agent's Handbook, the Lab was created on July 3rd, 2008.
Trivia
The Lab is a good foundation for every new agent.
Oscar's Lab has a secret bunker.
The lab was formerly the Odd Squad gift shop, run by Dr. O.
According to the Facebook page, before the Lab was a flower shop, it was a lightbulb shop.
The lab along with the entire headquarters was redesigned after the showdown with Odd Todd in "O is Not For Over" and was first seen in "First Day".
According to "Odd Squad: The Movie", the Lab is filled with "secret stuff".