Hello everyone, finally remembered my Wikia account.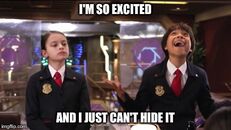 Before then, I've been going by the name "M" on this wiki.
So, nice to see you here on my page! You probably came to find out a little about me, so I'll help: This is me in a nutshell:
I love Odd Squad, and I'm dedicated to helping this wiki grow strong. Check out my ideas for the show here: http://oddsquad.wikia.com/wiki/User_blog:Matt2cars/Matt2cars_FAN_FICTION Hope you like it! I'm usually on here, and I know my way around as well, as I've added many of the pages here, so ask me anything!
If you want to know how I got interested in Odd Squad, check out "My Odd Squad Story".
I also change my avatar every month, so look carefully at who's posting what.
Thanks again!
Gallery:
Currently Playing:
Agent 102's current games:
Currently listening to:
Oscar is Awesome VERSION 2!!!!
Favorite Episodes
6:00 to 6:05
Oscar Strikes Back
Odd Squad Needs You
First Day
Back to the Past
A Case of the Sillies
Training Day
Dance Like Nobody's Watching
Trials and Tubulations
Rise Of The Hydraclops
The Briefcase
Ms. O Uh OH
Totally Odd Squad
Flatastrophe
Now You Don't See Me
Moustache Confidential
Trading Places
Robert Plant
Disorder in the Court
Predicted Favorite Episodes (episodes that I'm really excited for)
I
Favorite Shows and Movies
Odd Squad
Wild Kratts
Thomas and Friends
The Goonies
Mr. Bean's Holiday
Frozen
Cars
Father of the Bride
And for the TV show that isn't one... my favorite YouTube channel...
FRESH BAKED!!!
Favorite Character
OSCAR. In the short time that Oscar has been in the second season, he got ten times better! I'm kind of sad that he had to be replaced by Oona, but she's awesome as well and he certainly went out with a bang!
However, it's a tie with Otto. Otto is awesome, he's really fun, and me and him are very similar. Here's a list of the similaraties between me and him.
We Love Music
We Love Food
We're Terrible At Sports
We Love Christmas
We prefer to write with a pen instead of a pencil
We Get Very Excited
We Like Video Games
But, I have to say it's hard choosing a favorite because they're all great!
Favorite Wild Kratts Episodes
Slider, the Otter
Mystery of the Weird Looking Walrus
Build It Beaver
Platypus Cafe
Octopus Wildkratticus
To Touch A Hummingbird
Shadow, the Black Jaguar
Tenrec Treasure Hunt