Viral Video with Dr. O is the sixth episode of OddTube. It premiered on December 15, 2016.
Synopsis
Dr. O says that she knows how to make a viral video. Olympia is expecting a video that will be very popular while Dr. O starts listing odd viruses.
Intro
Olympia does a cartwheel, says the phrase, and continues cartwheeling.
Sponsor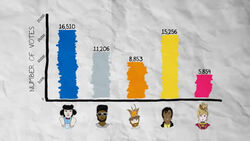 Bar graphs: After Olympia asks the viewers to tell who their favorite villain is in a previous episode, she makes a bar graph showing the results she got from them.
Evil Teddy wins with 16,510 votes.
Characters
Trivia
Dr. O lists four viruses that are in the titles of episodes:
Gallery